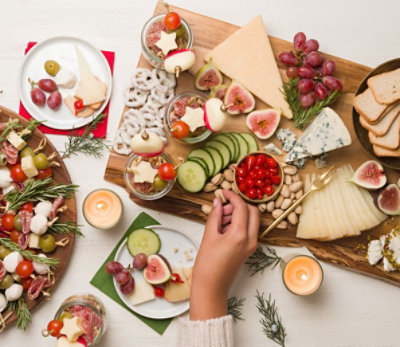 Skip the bowls! Make a holiday charcuterie board the best part of your party. Skewer olives, cheese, tomatoes and meat for a unique take on this classic crowd-pleaser. Garnish with bright herbs and holiday colors for some festive flair. ​

Prefer to satisfy your sweet tooth? Round up fresh fruit, chocolates and nuts for this year's hot trend: dessert charcuterie boards. If you're ready to build the perfect charcuterie, here are three quick tips: ​

1. Start with the cheese. Bold flavors like blue cheese, feta or gouda work well with meats, veggies and crackers. Planning a sweeter board? Aim for milder cheeses like goat, brie or ricotta. ​

2. Think outside the deli. You don't have to limit your charcuterie board to meat and cheese—round things out with the crunch of popcorn, nuts or pretzels. ​

3. Don't forget dips. Garnishes can elevate your board! Try jams, creamy spreads or sauces like horseradish, mustard or barbecue.
New Years Eve Food

If you're whipping up New Year's Eve food for a fun and exciting night, consider preparing delectable hors d'oeuvres like pigs in a blanket or shrimp cocktail. If you're hosting a cozy New Year's meal at your house, you can't go wrong with hearty classics like New Year's pork and sauerkraut or black-eyed peas stew. For tasty New Year's desserts, check the bakery for brownies, macaroons, eclairs, and more. Pair your meals with champagne or New Year's beer.
If you're planning on celebrating the following day and need New Year's day dinner ideas, check the deli section for a variety of premade meats and side dishes. For even more New Year's day food inspiration, check out some popular food blogs or watch your favorite cooking show for recipes you've never tried before. To top off the holiday, try baking your own New Year cake.
We've got a long lineup of New Year's food and New Year's drinks your guests will enjoy before the clock strikes midnight, so stop by today.