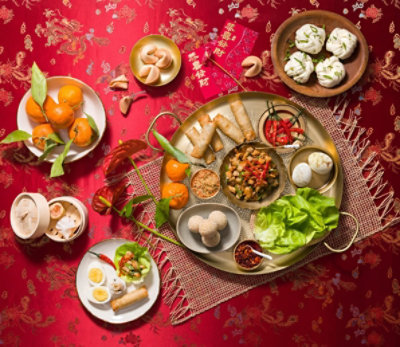 The Year of the Tiger
The Chinese New Year is celebrated around the world and marks the first new moon of the lunisolar calendar traditionally used in many East Asian countries. The festival stretches for 15 days, beginning with the new moon that occurs sometime between January 21 and February on New Year's Day until the following full moon on the day of the Lantern Festival. The holiday is sometimes called the Lunar New Year because the dates of celebration follow the phases of the moon. Each year marks the transition between one of the twelve Chinese zodiac signs. This year ushers in the Year of the Tiger, which symbolizes brave, powerful, and independent traits. In 2022, the Chinese New Year will start on Tuesday, February 1, 2022. This cultural celebration is deeply rooted in tradition and the practice of ringing in good luck for the coming year. During this time, homes and buildings are decorated with red objects, a color symbolizing good luck in the Chinese culture and which scares away evil spirits. For the same reasons, firecrackers are also very popular during this celebration. Other traditional activities during this time include parades, feats, giving red envelopes and focusing on happy thoughts.
$30 Off
on your first DriveUp & Go™ order when you spend $75 or more*

Enter Promo Code SAVE30 at checkout
Offer Expires 6/30/22
*OFFER DETAILS: TO SAVE $30 YOU MUST SPEND $75 OR MORE IN A SINGLE TRANSACTION FOR YOUR FIRST ONLINE PICKUP ORDER OF QUALIFYING ITEMS. OFFER DOES NOT APPLY TO ONLINE ORDERS SCHEDULED FOR PICKUP AFTER THE OFFER EXPIRATION DATE. Must select PICKUP option and enter Promo Code SAVE30 at checkout. Minimum purchase amount is calculated based on subtotal of all qualifying items at checkout after deduction of all other promotions, offers, discounts, and savings and excludes alcoholic beverages, tobacco, and fluid dairy products, bottle/container deposits, and any fees, charges, and taxes. Offer may not be combined with any other promotion, offer, discount or savings and other restrictions may apply. VALID FOR 1ST TIME ONLINE PICKUP GROCERY ORDER. LIMIT 1 PER HOUSEHOLD. We reserve the right to modify or cancel offers/orders and/or to correct typographical, pictorial, and other ad or pricing errors.
ALL ORDERS: Delivery and pickup service available in select areas. In some areas we do not provide delivery service in which case such service may be provided by one of our other banners (that banner's product availability, pricing and promotions will apply) or a third-party service provider; or independently by Instacart (Instacart's terms and conditions, account registration, fees, product availability, pricing and promotions apply). Online orders require a minimum purchase, unless otherwise noted. Online promotions, discounts and offers may differ from those in our physical stores. Clearance, single-store, and in-store only specials or promotions may not be available for an online order. Prices for products you order online are based on the price catalog in use at the store that prepares your order. The time of day that price updates occur may differ between the store preparing your order and online. You will pay the prices, fees, and other charges, and receive the promotions, offers, discounts, and savings applicable to your order at the time of online checkout, regardless of the date of scheduled delivery/pickup. Any negative balance/credit amount shown resulting from Promo Codes, coupons, or other discounts and offers will be adjusted to $0. We also adjust the amount charged for out-of-stock items, substitution products, weighted items, and offers that do not apply due to the terms of the applicable offer. The final amount shown on your receipt at the time of delivery/pickup will reflect these adjustments. Full terms available at albertsonscompanies.com/about-us/our-policies/terms-of-use.html and delivery.haggen.com/terms.